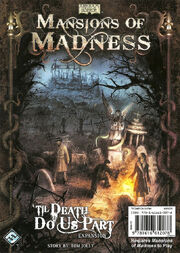 It started out as a harmless boast in a quiet Innsmouth pub. But what seemed an unlikely drunken yarn will quickly become a living nightmare, as you and your fellow investigators set out to find the truth behind rumors of ghastly human reanimation! Can you solve the mystery behind these gruesome rituals, or will become their next unholy sacrifice?
'Til Death Do Us Part is a Print on Demand story expansion for Mansions of Madness! Designed by Tom Jolly, 'Til Death Do Us Part tells a story of love, loss, and dark arcane rituals. Enlist the posthumous aid of an unlikely killer's past victims... or you might just join them for eternity.
Component List
Edit
Three double-sided reference sheets
Two Keeper Action cards
Five Event cards
Three Objective cards
35 Clue and Exploration cards
Four Infection cards
Nine Lock and Obstacle cards
Scenarios
Edit
There is one Scenario in this POD Expansion:
Ad blocker interference detected!
Wikia is a free-to-use site that makes money from advertising. We have a modified experience for viewers using ad blockers

Wikia is not accessible if you've made further modifications. Remove the custom ad blocker rule(s) and the page will load as expected.