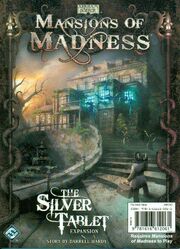 A promising professor has absconded with university property – an ancient and mysterious silver tablet. Now, you've been hired to search her manor for clues to her whereabouts... all while treating the matter with the utmost discretion. But what darker secrets does the tablet hold, and why did Professor Wolcott cut off all communication with the outside world?
The Silver Tablet is a Print on Demand story expansion for Mansions of Madness! This gripping story tasks players with solving the horrifying mystery behind an ancient artifact... all while resisting its sinister powers.
Component List
Edit
Three double-sided reference sheets
Two Keeper Action cards
Five Event cards
Three Objective cards
Nearly fifty Clue, Exploration, Lock, and Obstacle cards
Scenarios
Edit
There is one scenario in this POD Expansion:
Ad blocker interference detected!
Wikia is a free-to-use site that makes money from advertising. We have a modified experience for viewers using ad blockers

Wikia is not accessible if you've made further modifications. Remove the custom ad blocker rule(s) and the page will load as expected.