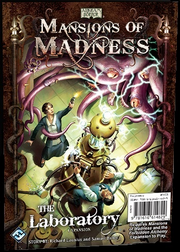 It has been two months now since your good friend Dr. Crawford Tillinghast berated you angrily, called you a fool, and ejected you from his home and laboratory in a fit of fanatical rage. His outburst came as a surprise to you, since he was not a man prone to anger, especially when the cause was your awed and frightened line of query about a strange machine he envisioned during the course of his metaphysical research. The doctor took your questions as criticism, and lashed out in response.
You have not spoken to the doctor since that day…
Inspired by From Beyond, one of H.P. Lovecraft's most disturbing short stories, The Laboratory is a thrilling expansion for Mansions of Madness in which players must shut down a mad scientist's eldritch machine before it tears our reality asunder. Otherworldly terrors feature prominently, and players must close portals to other realms as they hunt for clues to understand the device. Co-designed by Richard Launius, the creator of Arkham Horror, The Laboratory is a fantastically free-form adventure, full of the eerie themes and mechancis that make Mansions of Madness a uniquely satisfying entry into H.P. Lovecraft's eerie fictional world.
Notice: This POD Expansions requires both, the Mansions of Madness base game as well as the Forbidden Alchemy Expansion.
Component List
Edit
27 Exploration Cards
8 Lock and Obstacle Cards
7 Portal Cards
5 Event Cards
1 Objective Card
3 Keeper Action Cards
Scenarios
Edit
There is one Scenario in this POD Expansion:
Ad blocker interference detected!
Wikia is a free-to-use site that makes money from advertising. We have a modified experience for viewers using ad blockers

Wikia is not accessible if you've made further modifications. Remove the custom ad blocker rule(s) and the page will load as expected.