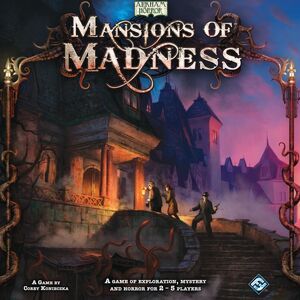 Horrific monsters and spectral presences lurk in manors, crypts, schools, monasteries, and derelict buildings near Arkham, Massachusetts. Some spin dark conspiracies while others wait for hapless victims to devour or drive insane. It's up to a handful of brave investigators to explore these cursed places and uncover the truth about the living nightmares within.
Designed by Corey Konieczka, Mansions of Madness is a macabre game of horror, insanity, and mystery for two to five players. Each game takes place within a pre-designed story that provides players with a unique map and several combinations of plot threads. These threads affect the monsters that investigators may encounter, the clues they need to find, and which climactic story ending they will ultimately experience. One player takes on the role of the keeper, controlling the monsters and other malicious powers within the story. The other players take on the role of investigators, searching for answers while struggling to survive with their minds intact.
Do you dare enter the Mansions of Madness?
Component List
Edit
1 Rulebook/Investigator Guide
1 Keeper Guide
8 Investigator Figures, consisting of:
1 Ten-sided Die
224 Small Cards, consisting of:
126 Bridge-sized Cards, consisting of:
65 Combat Cards
8 Investigator Character Cards
25 Event Cards
13 Keeper Action Cards
15 Objective Cards
9 Sheets of Punchboard, consisting of:
15 Map Tiles (1 large, 7 medium, 7 small)
72 Damage Tokens
24 Horror Tokens
24 Monster Tokens
18 Room Feature Markers
4 Sample Tokens
12 Sealed Door Markers
24 Skill Point Tokens
24 Status Effect Tokens
13 Story Choice Markers
12 Threat Tokens
6 Time Tokens
3 Lock Puzzle Setup Tiles
15 Lock Puzzle Pieces
23 Rune Puzzle Pieces
3 Wiring Puzzle Setup Tiles
15 Wiring Puzzle Pieces
Scenarios
Edit
There are five scenarios, each of which has three possible objectives.