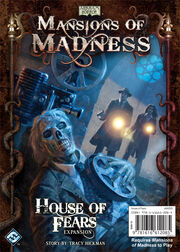 An influential film director is holding a screening of his latest production in the abandoned estate Whale Manor, and you've been asked to attend! There's just one catch: Whale Manor is haunted by the spirits of dead actors, all of whom are cursed to relive the drama of their films again and again.
House of Fears is a Print on Demand story expansion for Mansions of Madness! This cinematic adventure by acclaimed novelist Tracy Hickman thrusts players into a living 1920's movie. But can they escape the horror before the film's tragic ending?
Component List
Edit
Three double-sided reference sheets
Thirty-eight Exploration Cards
Six Lock Cards and four Obstacle Cards
Five Event Cards
Three Objective Cards
Two Keeper Action Cards
Scenarios
Edit
There is one Scenario in this POD Expansion:
Ad blocker interference detected!
Wikia is a free-to-use site that makes money from advertising. We have a modified experience for viewers using ad blockers

Wikia is not accessible if you've made further modifications. Remove the custom ad blocker rule(s) and the page will load as expected.