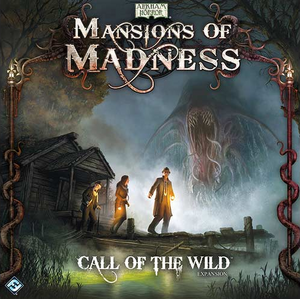 Briefly summarized, it hinted at a hidden race of monstrous beings which lurked somewhere among the remoter hills - in the deep woods of the highest peaks, and the dark valleys where streams trickle from unknown sources. These beings were seldom glimpsed, but evidences of their presence were reported by those who had ventured farther than usual up the slopes of certain mountains or into certain deep, steep-sided gorges that even the wolves shunned.
–H.P. Lovecraft, The Whisperer in Darkness
Venture into the unknown with Call of the Wild, an expansion for Mansions of Madness! Five new scenarios and eleven double-sided board tiles plunge investigators into the mysterious backwoods, shaking the foundations of what players have come to expect. The keeper has even more surprises at his disposal, and at times must solve ritual puzzles and seek out clues. A focus on outdoor maps encourages non-linear exploration, and new Allies assist in combat while driving the macabre narrative.
Component List
Edit
1 Rulebook/Investigator Guide
1 Keeper Guide
4 Investigator Figures, consisting of:
11 Monster Figures, consisting of:
105 Large Cards, consisting of:
34 Keeper Action cards
31 Event cards
24 Combat cards (8 for each of the 3 decks)
7 Objective cards
5 Ally Character cards
4 Investigator Character cards
190 Small Cards, consisting of:
42 Exploration Cards
31 Ally Story Cards
24 Mythos Cards (4 decks of 6)
20 Clue Cards
16 Trait Cards
12 Spell Cards
10 Delusion Cards
9 Trauma Cards (6 mental, 3 physical)
8 Trail Cards
7 Starting Item Cards
6 Mania Cards
4 Lock Cards
1 Obstacle Card
5 Sheets of punchboard, consisting of:
13 Monster Tokens
11 Threat Tokens
11 Map Tiles (2 large, 3 medium, 6 small)
11 Damage Tokens
10 Special Story Choice Markers
10 Horror Tokens
8 Curse Tokens
6 Pit Feature Markers
6 Ritual Puzzle Pieces
6 Ritual Clue Tokens
5 Ally Tokens
1 Ritual Setup Tile
1 Boat Feature Marker
Scenarios
Edit
There are five scenarios in the Call of the Wild Expansion:
Expansion Icon
Edit
All cards of the Call of the Wild Expansion are marked with the following icon: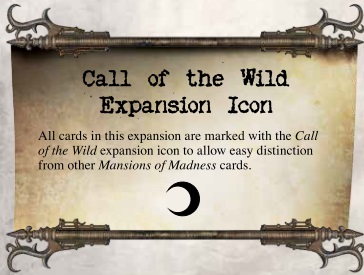 Ad blocker interference detected!
Wikia is a free-to-use site that makes money from advertising. We have a modified experience for viewers using ad blockers

Wikia is not accessible if you've made further modifications. Remove the custom ad blocker rule(s) and the page will load as expected.